CENTENARY FOUNDATION BOARDROOM AT ART GALLERY WA
This room is the perfect blend of classic and modern with its elegantly designed chairs, striking high ceilings, and wooden floors. Its traditional charm makes it perfect for team meetings and official dinners. With its walls adorned with oil paintings and a white linen tablecloth, the Centenary Foundation Board Room retains the same ambiance it had years ago (when it was part of the police courts). While it may be a "classic" dining room, the atmosphere in the private room is, without a doubt, upscale.
BISHOP'S PRIVATE DINING ROOM AT LAMONT'S
A beautiful blend of turquoise and yellow greets you as you enter the Bishops Private Dining room, instantly uplifting your spirits. The secluded room is set in a heritage-listed house in the heart of Perth's CBD. With a capacity of up to 20 guests at the long dining table, Bishops Private room is ideal for corporate events, meetings, intimate weddings, and dinners. Lamont's are famous for decadent food and wine so if your guests are foodies, this will hit the mark. You will be treated like royalty in your exclusive and completely private event with your own waitstaff.
PRIVATE DINING ROOM AT SAGE HOTEL
In the private dining room at Sage Hotel in West Perth, you are guaranteed charming character and heritage features. Conveniently located in the business district of West Perth, it's a weekday favourite for work meetings, presentations, and other corporate events and popular for intimate private events at weekends. Guests soak up the mixture of old and new with original floorboards and exposed ceilings and walls.
GERSHWIN'S WINE ROOM AND DINING SUITE AT HYATT REGENCY PERTH
Majestic and elegant, Gershwin's Wine room is made to impress. The well-appointed Wine room is decorated with a striking sunken ceiling covered in silk and an elaborate chandelier, accommodating 18 guests in a long table set up. The Gershwin's venue also consists of a Private Dining Suite that can fit 40 guests in banquet rounds. These luxurious spaces are ideal for a range of intimate functions including weddings, corporate events, presentations, workshops and private dinners.
PRIVATE DINING ROOM AT THE BOATSHED
The Boatshed creates an unrivaled experience for diners with its spectacular views of the city's skyline. Their dedicated team will help you customize virtually everything – your seating arrangements (for up to 16 people), menu, name tags, and even the floral centrepieces. Enjoy entertaining your guests in a private room with a million dollar backdrop and The Boatshed will take care of everything else.
POST PRIVATE DINING AT COMO THE TREASURY IN PERTH CITY
A stylish and contemporary setting for intimate events, this long table is the ultimate Perth City destination for groups of up to 12. Whether you are celebrating an important birthday milestone with your nearest and dearest or out to impress clients with a business lunch, a truly personalised experience is waiting for you at Post.
Specialising in serving up Italian classics, Post can cater the menu to your needs. Located in the old State Buildings, you and your guests will enjoy soaking up the classic grandeur of this historic and meticulously refurbished setting. Post also offers a smaller dining room and a larger space depending on the size of your party.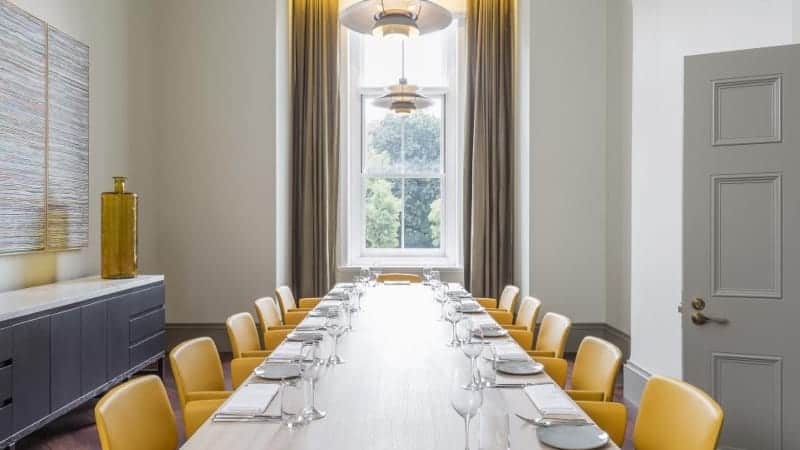 THE CELLAR AT STEVE'S NEDLANDS BAR AND CAFÉ
For a truly special private-dining experience, book Steve's wine cellar in the heart of Nedlands. The elegant cellar boasts privacy and will bring a smile to your guest as they descend to this unique space. The large room can host up to 40 guests sitting down and 50 cocktail style making it ideal for corporate meetings, wine tasting, and private dinners.
KITSON ROOM AT RENDEZVOUS SCARBOROUGH
Impress your guests with ocean views from the dinner table. Kitson Room at Rendezvous Hotel Scarborough features floor to ceiling windows and access to the balcony for fresh air. For more intimate dinners, the beautifully appointed room is ideal for long table dinners from 15-40 guests.
LA SOSTA ITALIAN IN FREMANTLE
Craving an Italian culinary experience? Check out La Sosta in Fremantle for modern Italian cuisine, home made pasta and bread, ample delicious servings and international wines.
The Mezzanine has ambient lighting and is available for private dining events up to 70 people. Or, you can book the outside Balcony and enjoy looking over the cappuccino strip while you feast and celebrate with friends and family.
MATILDA BAY RESTAURANT
Located in the heart of the bay, Matilda Bay Restaurant offers "The Wine Room" a purpose built private dining room with windows providing exclusive views of the Swan River. Providing the comforts of a well designed function room, it's a top notch place to host breakfasts, luncheons, private dinners and important business meetings.
Matilda Bay Restaurant is well known for it's foodie experiences so it's an obvious choice for impressing your guests with great food, views and surrounded by beautiful wines. Dedicated AV equipment is included with the room and the maximum capacity is 20 guests.